For the residents of GCC region, we know that SUVs lie on the top of their favorite cars list. It's not only for their gigantic body structure and good design, but also for their features and power that fit the weather and environment of Gulf area.
Arab people have always made desert their home, they modified all their life tools and utilities to fit the harsh nature of desert.
In respect of transportation and mobility, SUVs seem to be the best mean that can deliver perfect performance no matter how hard the terrain or the weather is.
GCC residents now know that, and that's why they have chosen SUVs to be their number one sort of cars.
In this article we are going to demonstrate the top 7 luxury SUVs which are mainly sought after by SUVs lovers especially from GCC residents.
Check Our List For The Best Luxury SUVs and 4 Wheel Drive Cars 2016
Mercedes Benz GLE 450
The GLE-450 from Mercedes Benz is a true revelation of perfection that mingles between beauty, power, and utility. The car offers a sleek body design, huge power of 362 horsepower managed by a 3.0L V6 twin turbo engine, and various additional features including 9-automatic transmission, ABS brakes, and an astute navigation system.
Range Rover
The Land Rover Range Rover is one of the calmest while drive offering perfect handling and suspension performance even while going up and down the desert slippery dunes.
It offers 340 horsepower from 3.0 V6 engine. It has also an 8-speed automatic transmission system not to mention a wide range of additional features to ensure high safety for the driver and passengers.
BMW X5
This German beast has them all. Either off-road or driving in the middle of the city, it will certainly make you stand out other vehicles.
Its attractive looks and high-tech features endue it with a unique stature that makes it different from all other counterparts roaming on streets.
BMW X5 has a twin turbo engine providing 255 horsepower, 8-speed automatic transmission system, ABS braking system, drive-line traction control, and many other features.
Cadillac Escalade
When it comes to power and torque, Escalade absolutely is the best model. It enjoys a 420 horsepower provided by a sophisticated EcoTec engine of high capability featuring 6.2L and 8 valves.
The Escalade distinguished itself also with a totally attractive outer design featuring 20 inches aluminum wheels, adorable front light and magnificent body shape.
Lincoln MKX
This SUV grants a totally different driving experience that makes it more enjoyable and fun.
High technology, craftsmanship, and design where incorporated to shape such a driving experience that provides an excellent driving experience. Wherever the road takes you, and whatever the circumstances, Lincoln MKX with its able engine and high horsepower will never let you down.
The car features a 3.7L V-6 engine providing 303 horsepower besides a set of fundamental and additional features.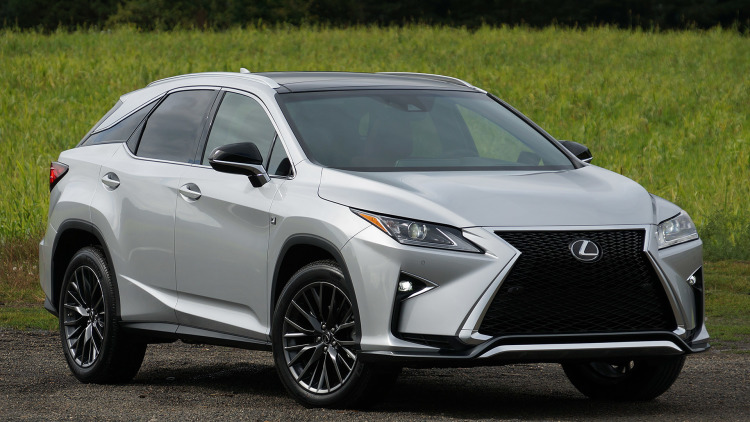 Lexus RX
The features of the standard Lexus RX includes 3.5 litre engine of 6 valves that offers 295 horsepower, transmission system of 8 speeds, anti-lock ABS brakes, big and cosy interior cabin, navigation system, full set of airbags, automatic air conditioning system, and many other qualities that distinguish it from many other SUV cars.
Volvo XC 90
The full SUV from Volvo is a true revelation of luxury and top qualities manifested in a one well-designed and well-crafted vehicle.
The vehicle features exquisite interior design with wide display screen in the middle of the central console, leather well-holstered seats, large leg space, and big trunk to take all your luggage.
It offers also a large engine power of 316 hp, 8-speed automatic transmission system, navigation system, ABS brakes, and a full set of airbags to maintain a high safety standards.