In an attempt from the Japanese giant "Nissan" to regain its leading position in the compact-car segment. The company has finally uncovered the main features of the newest Nissan Sentra.
At the Miami Auto Show held in last September, Nissan SR Turbo model made its first appearance looking mainly as a bruiser.
Engine
The vehicle is packed with an able 1.6 liter engine of four cylinders to prop up its power and acceleration speed.
Thanks to its turbocharger, direct fuel injection, and variable timing onboard, the car has the ability to deliver 188 horsepower in conjunction with 17 lb-ft of torque.
This makes the new model of Sentra 50 percent higher in power than its mediocre predecessor. This one is pretty quick.
Sentra has an automatic transmission and a manual gear box to meet all demands. It enjoys now a modified handling system, a significant boost in engine power, and facilitated steering system for tireless driving experience.
You can feel how easy it is while tuning on low speed through twisting roads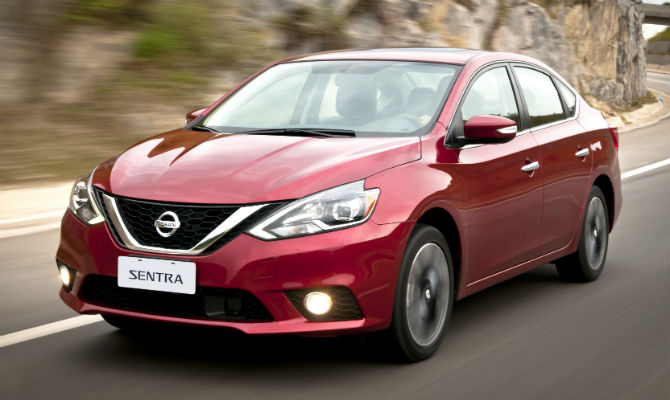 Exterior design
This one looks more fun. It has an increased thickness in windows glass, more mainstreamed look, and bigger cabin storage to take more objects. Moreover, the center console of the 2017 Sentra is twice bigger than the older model.
The car features also LED low-beam headlights, keyless entry, push button ignition, and power sliding roof.
It enjoys also a center high-mounted stop lamp, unique 17 inch wheels, and a rear spoiler that looks well integrated with car's overall design.
The car interior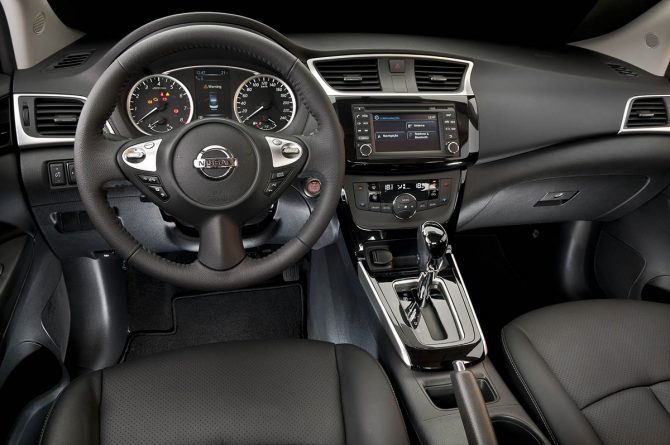 The cabin is totally quiet from outside noise and car sound. It's well isolated from exterior wind and temperature.
It offers its riders an intuitive set of infotainment composed from a 5-inch color screen placed in the center of the console, satellite radio, Bluetooth, and mobile integration system compatible with Apple iPhone and Android systems.
The premium package includes Bose audio system, blind-spots mirrors warning system, leather seats, monitors that alert when car approaches from any side, and parking monitors.
The premium package gives the car driver access to Nissan-Connect system which includes a variety of applications including navigation system, SiriusXM Traffic, and SiriusXM Travel Link, all obtainable through the display screen.
Issuance and Price
The car is currently being tested by its manufacturers and it's expected to formally hit the markets by the end of this year.
Still the official price is ambiguous until the moment, however you can have a grasp of it by checking out last model's and other counterparts' prices.
It's good that Nissan is paying more effort to liven up its Sentra, however pundits had very long talk on the car performance thinking it was really up to expectations.
With more focus from, we can see even better model with more improved interior, exterior, and engine capabilities in the near future to assist Nissan regain its top global market position in compact and sedan cars segment.
That's all for our review about Nissan Sentra SR Turbo Model, hope you like it. You can check our blog for more reviews about many other new vehicles.