For further complementation of car lovers worldwide, the American multinational automaker has announced releasing its first self-driving vehicle in 2021.
Ford is a historic cars manufacturer headquartered in Dearborn, Michigan, which is a suburb of Detroit City. The company was founded by Henry Ford in 1903 to build a great legacy of auto industry since then.
The American major company plans to mass produce the fully autonomous car without a steering wheel. It's expected to hit the markets after five years from now.
Dedication to the idea
During a special event held in Palo Alto, California, the company president Mark Fields uncovered the bold plan of the car production.
He said that the company would double its investments in the research center and cooperate with a number of start-ups to develop the autonomous car and increase its Silicon Valley team.
Fields added saying that the company sees self-driving cars as very significant invention that will define the next decade, it's expected to have the same impact of Ford's moving assembly line 100 years ago.
The company is dedicated to creating an autonomous vehicle with special unrivaled features, which can enhance safety stakes and be affordable for millions of people worldwide, not only the slim class that can buy luxury cars.
Testing
As a part of its plan to quicken the studying phase, the company will expand the testing standards to be on larger scale this year. Thirty self-driving Fusion Hybrid saloons will take on the roads of California, Arizona and Michigan.
By this, Ford autonomous vehicle fleet will be the largest of any carmaker in USA, yet still the company studies tripling the number again next year.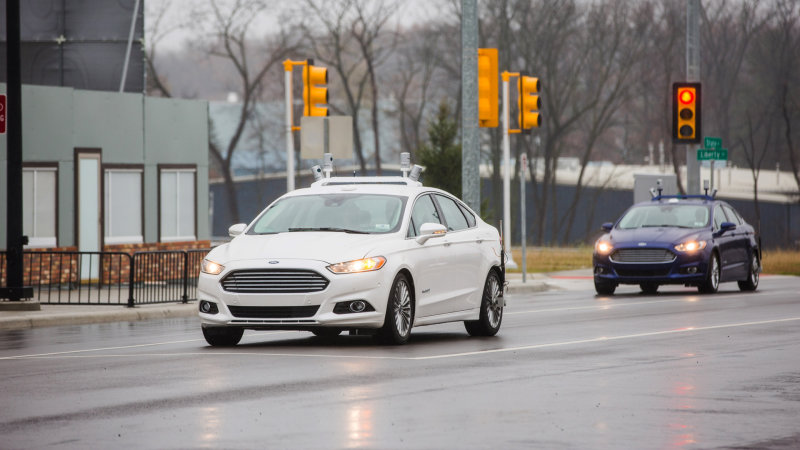 Ford Smart Mobility
The autonomous vehicles to be launched in 2021 are part of Ford Smart Mobility. It's a subsidiary of Ford Company established to improve transportation technologies and enhance special traits of the self-driving models.
The company was formed in March, 2016 to be a leader in the arena of autonomous vehicles by delivering the best connectivity services, mobility, customer experience, data, and analytics.
In an official statement issued upon the company's creation, Ford said that Ford Smart Mobility will work on its own in designing and building mobility services as well as collaborating with start-ups and tech companies.
However, it will also cooperate with Ford's existing engineers and researchers to develop various mobility services, as put by the statement.
Not the first
Ford is not the first American car-maker to show its dedication to self-driving cars. General Motors has announced last March acquiring a San Francisco-based self-driving software start-up with plans to make it an independent subsidiary.
Toyota, Tesla, not to mention Google, and Apple are also working on developing cars that will drive themselves.
Although they didn't prove to be very safe specially while driving through heavy traffic, companies are still eager to develop the automation traits of their self-driving models in order to reach the upmost proficiency in performance.
Testing has a great deal in reaching this status. Real driving data is needed to train the algorithms controlling the autonomous vehicles to reach top capability of dealing with all situations.